Page 3 of 4
Supporting Young Leaders for the Future
- Maratja Dhamarrandji, East Arnhem Support Worker, Uniting Church, reports 
on their hopes for their trip to World Christian Gathering on Indigenous People, 
New Zealand, January 2011.
[we went] ... to encounter and experience the rich cross cultural understandings in theology from different, different Christian indigenous people groups around the world to able sit down with them and interact and theologise with them...
... this is work, not to have a good time but serious stuff that will have positive results for all of us... A mixture group of old and young so the young ones can gain experience and learn something from the elders... we want to support our young leaders become mature and continue their leadership roles for the future, not be caught up this what I call a cultural leadership divide, this is very alarming and elders now are already saying "What will happen when we elders/leaders now pass on? Who is going to take up leadership from our communities? There is a lack of mature people/leaders in our communities."
We want to maintain our experiences after we come back and start to interact in networking with our different regions to support and follow up would be very useful. We want support in this area and I am hoping this exposure is one of those supports we need in this present time especially in New Zealand.
WORLD CHRISTIAN GATHERING OF INDIGENOUS PEOPLES
Our Trip to 'the Land of the Long White Cloud (Aotearoa) New Zealand'

We went to New Zealand to attend the conference called (WCGIP) WORLD CHRISTIAN GATHERING OF INDIGENOUS PEOPLES. We went on the 15th January and returned 21st January 2011.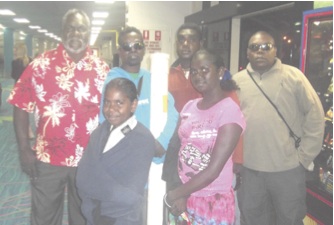 This conference had connections to previous meetings and conference that Yolngu from North East Arnhemland had attended. OCT ONE Celebrations 'Scripture In Songs', through an invitation by David and Dale Garret, was attended by a representative of 30 people in Auckland NZ in 1993. Then about 40 yolngu reps people went to Merroo NSW for the WCGIP in 2000. At both these gatherings we met Monte Ohio from NZ. He was one of the founders of WCGIP.
We wanted to go to NZ firstly, to connect with the all the World Christian Indigenous Peoples, to have fellowship, and to learn from each other how our Creator God is empowering Indigenous Christians in ministry and mission. It was a very good exposure to all of us especially to the young people who attended 4 boys and 2 young girls, as well as myself and my wife Gapany.
Secondly we wanted to personally pay our respects to the founder of the movement, Monte Ohio, who passed away about 3yrs ago. He had a significant impact on my own life and on the lives of many of us who attended the previous meetings and conventions. One of his messages was that 'you can be truly indigenous and a truly Christian person, you don't have to be like somebody else. God wants you to be an authentic Christian Indigenous person/peoples', through profound statements like that we connected and found our strengths and a deep appreciation and awe to our Great Creator God, our Wangarr.
I believe the Maori People, the Indigenous of Aotearoa New Zealand, have got the ability and the mantle to encourage and impart the warrior spirit to many Christian indigenous people groups in the Pacific to remain strong, vigilant, steadfast, courageous and authentic. We are God's Warriors through Christ Jesus, who has given us a commission to make disciples and a passion to extend His Kingdom here on this earth.
We believe we also have a calling from God to impact nations, we not a liability. We are an asset in God's Kingdom. We want to create our own theology using our art, music, language, and our unique culture to bless to our families, communities and our nation. We are not a mistake, and we have purpose in God.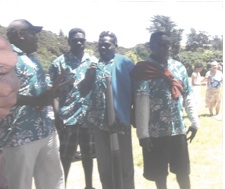 Testimonies/experiences
We strongly believe God wanted us to attend WCGIP. We felt the God giving scripture like 'To God nothing is impossible' and that 'We walk by faith and not by sight'. Having that deep conviction and faith made it all possible.
When we in got to Darwin from Galiwinku, I was praying one day seeking God's direction and help about the whole trip, I asked God what item to present whilst in NZ, and He spoke to me in a still small voice "Sing your own Djambarrpuyngu song about the water, sing it as an offering to me acknowledging me that I'm your creator, giver and sustainer of life.'' When we got to Auckland NZ, we were just in time for the final Sunday main service. , We went to the beach first and joined the conference participants for a wonderful barbecue, and then we went back home and rested. After that we went to a dinner with the conference at a place called The Dream, and then we went to have our final service of the conference gathering at the Telstra Drome. There we all presented our final presentations. All the other delegates were all dressed in their own indigenous costumes. It was awesome each people's groups presenting their own songs and dances in their language, playing their musical instrument, worshipping God their Creator and paying Him homage. There was freedom in that place of awe and expectancy. We also felt joy and gladness as we worshipped together with all the nations of the world. The indigenous Australians presented together, from the NT, east coast NSW and from SA, We met Ps Ray Minnicon and his team from east coast NSW and Rev Wali Fejo from Port Augusta SA. It was good to see them there, and we just jelled, and fellowshipped together. There was Ps Ray Minnicon's daughter named Sharon who gave the introduction to our group, but first she gave a speech about a story of how God had laid it in her heart to pray and intercede to speak deliverance for indigenous youth, particularly those whose lives have been victimised by abuse and drugs. She wanted an indigenous sound as an introduction to her speech and sure enough we turned up at the last minute. Whole heartedly I sang 'Rirrakay ngurrkam God-Wangarrwal' with Dhawa on the yidaki while the other 3 boys were dancing and making a joyful noise unto the Lord with 'Rirrakay ngurrkam God-Wangarrwal' (Shouting/Praising to God the Great Spirit.) Then the East coast and SA groups presented an action dance.
We concluded with 'Gapu' dance and water song and dance and an action dance called 'Bunggan Baw' Sweet smelling offering action dance after which I presented a gift of a book called 'Spears and Clouds' by Rev Bernie Clark, This was a token of our appreciation to WCGIP and to Linda Ohio wife of Monte, acknowledging him for his important contribution WCGIP. Pastor Ray Minnicon is one the Australian representatives as the 'Keepers of the Vision' for WCGIP.

The main message was preached by a Hawaiian man, and he preached was from Acts 17:16-34. It was a powerful message. The following day the boys and I had a good bible study which I read from the same text that we heard, but we read it in Yolngu Matha., We were all satisfied with the study., We had a break and when I came back to my amazement I found the boys were still going discussing about the study and drawing their own sacred paintings that belong their clans, but this time they were putting the cross of Jesus in the centre or above their paintings, I was very impressed, for I hadn't asked them to do it. They did all by themselves. They were keen to continue when they got back home, to consult with their elders for permission to go ahead to express their faith in Jesus. This is also a powerful medium to share with the church and the community.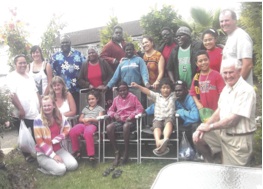 Thanks to my wife Gapany for organising our stay in Manurewa Auckland with the Tongan family of Hina Filimoekava, Carlo and Paula. They are the family of the late Gapany's adopted Wawa Malakai Filimoekava who served as a MAF pilot in Arnhem Land. , Thanks to them and also to their extended Tongan families Malakai 's family Manu, Sita and their families and to Hina's family and sisters who really looked after us and gave us gifts and fed us while we were in NZ., We are indebted to them., We say Malu' thank you so much!
In Darwin we want to say thank you to David Forsyth and Ben our NRCC Staff for their tireless efforts in helping us do last minute bookings to NZ, without them I don't think we would have made it. Thanks to Ben and Helen for opening up their home for accommodation. I want to also give thanks to my mukul Melanie Wilkinson for our continued stay in Darwin finishing off my holidays and doing a little bit of work.
Struggles/hindrances, obstacles we had to overcome, because we left it too late, and we only had a short time to get prepared, it was difficult.
Financial
We got some funds from ALPA and NRCC; other funds were raised by families and through a bank loan. I still have to pay off the loan.
Attitude
There was a lot of interest from Yolngu but not many could find the money. There were also some who could not really see the point of our going and were not supportive. They are entitled to their view. Our experience however showed me that it was a truly rich experience for the young people who went. These could be our church leaders of tomorrow.

Yo! Manymak Bukmak God bless you all.
(Alan) Maratja Dhamarrandji
Galiwin'ku, Elcho Island, N.T.